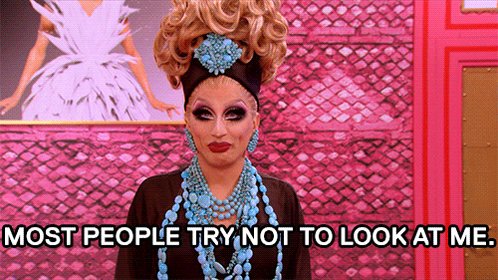 Hey Kitty Girls! This week's episode was the one we've all been waiting for all season long. That's right; given that it was Week 7, we finally got THE SNATCH GAME!!! Easily one of the most nerve-wracking challenges in HerStory, the Snatch Game victory is legit can make or break a queen. A queen can either soar (Jinkx Monsoon as Little Edie, Bendelacreme as Maggie Smith,Bianca Del Rio as Judge Judy, Bob The Drag Queen as Uzo Aduba/Carol Burnett), or crash and burn (Phi Phi O'Hara as Lady Gaga, Gia Gunn as Kim Kardashian, Tatiana as Ariana Grande, and literally everyone that has done Beyoncé). So how did the Season 10 queens fare in the "Christmas for drag queens" (as Monét X Change calls it)?
Thankfully for this season's Snatch Game, the queens had a little help from a very special visitor, everyone's favorite clown in a dress, season 6 winner Bianca Del Rio. Bianca helped the queens get ready for the challenge, guiding them with her signature quick wit and playful insults. Even with Bianca's help, there were some queens who made some very questionable choices as far as who they were going to portray in the Snatch Game. In the werkroom, Asia O'Hara made everyone nervous with her plans to impersonate Beyoncé, which left Aquaria struggling to form sentences while Kameron shared her excitement to use her muscles to her advantage and portray WWE's Chyna. As for Miz Cracker, she definitely went bold and decided on poet and satirist Dorothy Parker.
This episode will definitely go down as one of the episodes with the worst "Lip-Sync For Your Lives" ever. "Cut To The Feeling" was one of last year's biggest songs, and for Monique not to know the words was almost as bad as Valentina last season. If she had at least known the words, she would have probably made it through and The Vixen would have been sent packing as she has more than outworn her welcome.
Latest posts by Erika Negrón Rivera
(see all)